Outdoor Spaces
Pergolas / Shelters
Enhance your new and or existing patio, pool deck or backyard with a pergola or shelter. These custom features offer you shade or partial shade when needed to help block unwanted sun.
They are custom designed to suite ones needs. They can be built to accomodate existing patio or pool deck design. Cedar is OUR speciality. 6 x 6 rough sawn cedar post. 2 x 10 header and 2 x 8 joist. Ceiling fan, TV, lighting and curtains can be added to ehance your time spent outside.
Most pergolas can be installed in one day!
Maybe your looking for something more formal. Ask about our shelters.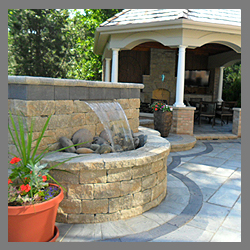 These are typically a four or six post design with a roof. This will provide for a good amount of shade and keep you out of the rain.
Ask no more questions when "CREATING YOUR NEW OUTDOOR LIVING SPACE".
Arrowhead... Your Pergola and Shelter Specialist!
Contact us with questions or for a free estimate.