Our Services
Brick Pavers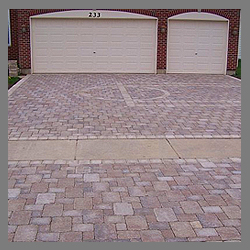 Arrowhead strives for quality in all of our installations. Our installers have pride, and take the time to assure every job has adequate base and compaction. We typically install Unilocks manufacturers specifications at a minimum, and double the manufacturers specifications is not uncommon. We look at the site, soil and conditions to determine what is needed to install the best quality project for you.
Base in your hardscape project is #1 . Not only depth but compaction. Don't be mislead by the "concrete base". Granular base has always been the best installation from Europe to Chicago. It is breathable, allowing the pavers to adjust to the frost and freeze rather than crack, which is very important. Arrowhead promotes and uses the newest techniques to help prevent weeds, settling, and unecessary repairs. We stand by our installation and guarantee our work. Unilock provides a lifetime warranty on products. Let Arrowhead Brick Pavers Inc. install your new outdoor living space.

---
Pergolas & Patios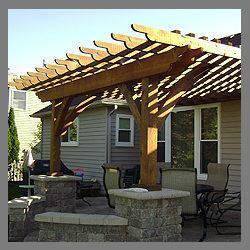 Pergolas are quickly becoming a popular outdoor addition to any house or yard. These open structures use cross beams to create an open roof that allows the sun to shine on your outdoor living space. Backyard pergolas can cover outdoor dining areas, living spaces or even quiet retreats.
Pergolas can be freestanding out in the open or on a patio. Anchoring it to the patio, concrete footings, or the ground keeps the garden structure stable. Pergola can also be attached to the side of a home or other building to create a covered area similar to a porch. Both pergola types are stable and incredibly stylish.